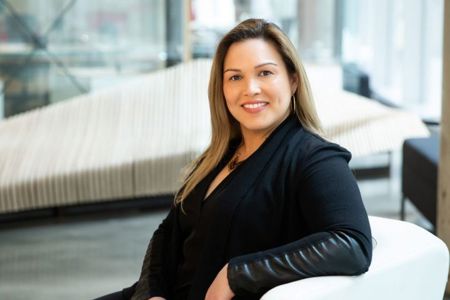 ---
Yiselle Santos Rivera
HKS
---
Yiselle Santos Rivera, AIA, NOMA, is a tireless champion for a more inclusive workplace, community, and profession. Her work demonstrates the importance of planning and designing through the lens of social responsibility, justice, equity, diversity and belonging.

Yiselle was drawn to design as a young girl in her native San Juan, Puerto Rico. She delighted in building her younger brother elaborate cars and spaceships from pieces of cardboard and couch cushions. But when it came time to pick a college major, she decided to join the science field, like her parents, a pediatric dentist, and a health care services administrator. In 1997, she enrolled at Universidad de Puerto Rico (UPR) Ro Piedras Campus as a biology major.
After two years studying genetics, physics, chemistry, and geology, Yiselle yearned for creative outlets. A professor suggested she pursue architecture. She applied and was accepted to the highly competitive UPR School of Architecture graduating in 2003 with degrees in general sciences and environmental design. Yiselle's talent and diligence earned her a spot in Syracuse University's Master of Architecture program, which allowed her to travel the world and informed her appreciation for cultural diversity.
Before joining HKS, she worked at SmithGroup and HOK, emerging as a leader in Building Information Modeling. She designed hospital facilities and urban planning designs around the globe, offices in Washington D.C. and commercial and residential complexes in the U.A.E. and Saudi Arabia.
In 2018, Yiselle's initiative and drive drew the attention of HKS leaders, who appointed her as the firm's first Director of Justice, Equity, Diversity and Inclusion (J.E.D.I.). She fulfills this role while performing her work as a medical planner in the HKS Washington, DC office. Yiselle uses her platform to moderate firm-wide conversations about the role of race and gender in how designers and other professionals experience the workplace. She has also built a firmwide structure of accountability using the J.E.D.I. framework and leads a team of leaders in the company, J.E.D.I. Champions, who help support the work around the firm. She meets regularly with these champions. J.E.D.I. Council members, and colleagues to discuss and implement ideas on how to increase diversity and inclusion at HKS and the design industry. In addition to her work in practice, Yiselle is engaged locally and nationally in the American Institute of Architects (AIA).
Locally, she co-founded the AIA Washington, DC Chapter (AIADC) Latin American Interior Designers, Engineers and Architects Committee. During her tenure, she served Treasurer and Fundraising Director and launched the Maestros de Arquitectura lecture series to showcase the work of Latin American design professionals. Before the lectures, she created Tertulias, informal talks, which allowed the speakers and guests to chat and network in Spanish. The lecture series was in English to make it accessible to wider audiences.
Given the success of her AIADC outreach initiatives, Yiselle was selected to the Christopher Kelley Leadership Development Program 2015 class, a year-long program focused on preparing young professionals for future leadership and executive roles. She co-led the Advocacy and Philanthropy session empowering fellow scholars to pursue involvement in community programs and local civic roles. She also introduced young students to architecture through the WAF Architecture in the Schools program, where she helped teachers develop an eight-week curriculum that culminated in an exhibition and presentation by the students.
Statistically 42% of women enter the architectural profession, but only 15-18% of them become leaders in their firms. Determined to spotlight the conversation on retention and diversity, in 2017 Yiselle created the Women Inspiring Emerging Leaders in Design (WIELD) event. She fund-raised over $6,500 to support the event and donated the proceeds to the Washington Architectural Foundation (WAF) 'Design Like a Girl' program and the Barbara G. Laurie Scholarship for DC high school students entering undergraduate architecture programs. The event provided a platform for leaders from various backgrounds in the Architecture Engineering Construction (AEC) Industry to share their stories of career success, career-pinch points and opportunities, and the challenges minorities still face today in their leadership path. In 2018, AIA recognized WIELD with the AIA Diversity Recognition Program Award for amplifying the voices of the underrepresented in the profession. WIELD is now a movement that has solidified its impact in the industry by becoming the AIADC Chapter's Equity Committee by WIELD (ECxW). In April 2020, ECxW partnered with the DC National Organization of Minority Architects (NOMA) and LA.IDEA to create an ongoing series called 'Our Forum, Our Impact' to increase awareness in the need for justice, equity, diversity, and inclusion in the profession.
In 2018, the leadership of the AIA National Associates Committee (NAC) identified Yiselle as the leader to take on the role of Associate Representative on the Strategic Council and on the Board of Directors. Soon after taking on this role, she would have the opportunity to engage in committees that focused on building equity, diversity, and inclusion in the profession and was nominated by the AIA President to join the Equity and the Future of Architecture Committee and the New Urban Agenda Task Force.
After Hurricane Maria's devastation of Puerto Rico, Yiselle proposed the AIA NAC consider the upcoming Annual Meeting take place in San Juan, PR. In 2019, as the island recovered, the NAC visited the island and participated in two community engagement projects with the UPR's School of Architecture that assisted communities in rebuilding for resilience. Also in 2019, Yiselle was a panelist at the first ever AIA Heritage Month series. AIA National in collaboration with AIA Chicago, celebrated diversity featuring industry leaders discuss justice, equity, diversity and inclusion of LGBTQI+ members throughout the AEC industry.
Early in 2020, Yiselle was asked to join the AIA COVID-19 Health Impact team and lead the effort to add the section on the AIA Preparedness Check List V2.0. This document encourages a response that considered marginalized communities, homeless and unsheltered populations, culturally sensitive colors and spaces, as well as, considers needs for special communities like mental and behavioral patients and rural populations. The Preparedness Checklist has been translated into three languages and is now a guideline document used by the US Department of State all over the world.
This year, Yiselle was instrumental in HKS' signing of the UN Global Compact. By signing the UN Global Compact, HKS pledged to join other global companies in aligning its strategies and operations with universal principles on human rights, fair labor practices, environmental stewardship, anti-corruption practices, and to advance equal opportunity and a more sustainable future for all. These goals, strategies and objectives formed the framework for HKS Environmental, Social and Governance (ESG) Touchstone Report which Yiselle helped author.
Advocating for those whose voices often go unheard and infusing the design profession with empathy and consideration for people from all walks of life have become Yiselle's purpose in life. Her work with individuals, groups and communities has expanded around the globe. The above examples show the many lives that have been positively impacted by her work and generosity of spirit. Yiselle's tireless work within the architecture field and areas of justice, equity, diversity, and inclusion mean that she has created a positive and psychologically safe work environment where people from all backgrounds can succeed and flourish within HKS and the architecture field at large.