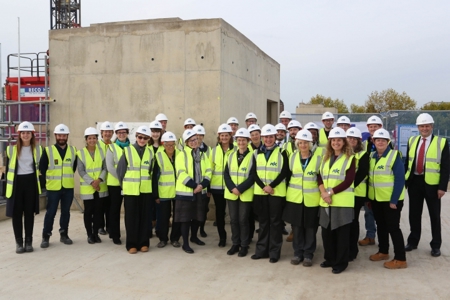 ---
Walters & Cohen Architects
---
In 2014 Walters & Cohen won an invited competition to design a new building for Newnham
College, Cambridge. Our team was led by Cindy Walters, who founded the practice with
Michál Cohen in 1994. Having completed day nurseries, primary and secondary schools,
taking on a Higher Education project was a natural segue. Newnham had no agenda in
appointing a female-led team and chose us because they liked our previous work and our
ideas for working within this very challenging and sensitive historic environment. In
collaboration with the College's project team, special interest groups, students, staff and
Fellows, we ensured that the building meets their needs and is entirely unique to them.
The Dorothy Garrod Building comprises a Porters' Lodge, conference facilities, rooftop gym,
staff offices, meeting rooms, 86 en-suite student bedrooms, generous kitchen/social areas to
cook and eat together, and 'the coolest café in Cambridge' (according to Newnhamites!)
where students socialise and work in the heart of the College. It is also significant that for the
first time in 100 years, Newnham has a new civic entrance befitting an Oxbridge college.
The main challenges were getting the design right, and then building it in the middle of a
fully-functioning College. Both were approached with intelligent consultation, communication
and collaboration. Walters & Cohen was a good match for an unusually large – and
unusually committed – client body: as skilled architects, we are the experts in making good
buildings, but it's our clients who are the experts in their field of business, and know how
their new building needs to work. Newnham were quick to understand how our design ideas
gave them even more than they asked for, and together we created 'a building worthy of
celebration' (Dame Carol Black, then Principal of Newnham College).
Dr Judy Quinn of Newnham said: 'Listening to and discussing design ideas with different
constituents of the College community was the hallmark of Walters & Cohen's approach and
their endless patience in explaining the potential offered by the design the secret to the
success of the project.'
Landscape works are integral to the design: the building wraps around a new courtyard
garden, with interstitial spaces improving visual and physical links between buildings. During
the competition we proposed appointing Brita Schoenaich of Bradley-Hole Schoenaich
Landscape. The working relationship between Brita and Lottie Collis, Newnham's Head
Gardener, has resulted in beautiful gardens that are easily accessed and can be viewed
from the building's generous windows. Newnham's gardens are a welcome haven from
rigorous academic life.
We've also given staff – academic, pastoral and housekeeping – an uplifting working
environment. Harriet Truscott, Director of Communications at Newnham, said: 'we wanted …
a more collaborative way for staff to work, and it's absolutely succeeded in that. [We have]
windows looking onto shared spaces, we work with our doors open; it's a wonderful sense
that people are collaborating, listening, supporting and helping each other.'
The project was completed in December 2018, on time and on budget, and has since won a
number of awards.
Cindy Walters, Director – project lead. The building would not be the success it is without Cindy's leadership, from competition bid to handover. Her involvement from the macro scale of the masterplan to decisions on the fixtures, fittings and signage gave the project coherence and ensured a shared vision.
Rob Hill, Associate Director – project architect. Rob's good humour and level-headedness earned the respect of the whole team on site: he 'cut through the noise' to find solutions by listening, absorbing and giving considered responses that played to people's strengths and inspired a common purpose – an enviable achievement that Rob made look easy. As a result, this is a building of remarkable elegance and craftsmanship.
Nichola Finch, Associate – project architect. Nichola was a newly qualified architect when we entered this competition, having achieved a Distinction in her Part 3. She put her all into the competition bid and worked tirelessly on every aspect of the project for the next four years. Nichola takes great pride in her work, inspiring the design team to aim high too. This shows in the quality and detail of the building.
Nichola and Rob shared the project architect role, handling decisions and queries at design stage and on site.
Michál Cohen, Director: worked on the bid and concept design.
Lieve Smout, Architect: worked alongside Cindy, Rob and Nichola for two years.
Dr Lucy Keens, Administrative Associate: kept Cindy's diary, wrote the competition bid and wrote or edited all significant documents associated with the project.
At various points the team included architects Marianne Zylstra, Saya Hakamata and Elena Garcia Gomez.
Bradley-Hole Schoenaich Landscape
Brita Schoenaich, Principal
Intrinsic to the project's success is the landscape strategy devised by BHSL and the Newnham gardeners. Unusually for an Oxbridge College, there are views from the street to the gardens through a building that is outward-looking and welcoming. The close relationship between indoors and out, including the rooftop terrace, allows Newnhamites to appreciate their beautiful College from new perspectives.
The BHSL team included Magdalena Firganek-Fulcher, Elke Beller and Sara Rocha.
Newnham College
Lottie Collis, Head Gardener, formed a fruitful (and flower-ful) partnership with BHSL; see above.
Our wonderful client team are too numerous to mention, but particular thanks go to Professor Dame Carol Black, Wendy Evans, Dr Judy Quinn, Penny Hubbard, Professor Jenny Morton and architect and lecturer Benedicte Foo.
Artist
The College chose sculptor Cathy de Monchaux through an interview process and gave her full creative freedom. The artwork on public display at the entrance – a bronze 'tower of books' the height of the building – celebrates education and research.
Some more women who contributed to the success of this project are:
Jo October of Gleeds, Project Management
Aleksandra Przydrozna of Max Fordham, M+E Engineers
Georgia Rodgers of Max Fordham, Acoustic Engineers
Becky Armstrong of Eight Associates, BREEAM Consultants
Sara Tobalina del Val and Anna Sandgren of Nulty, Lighting Designers
Mara Isara of Ab Rogers Design, Interior Designers
Ann Freeman of SDC, Main Contractor