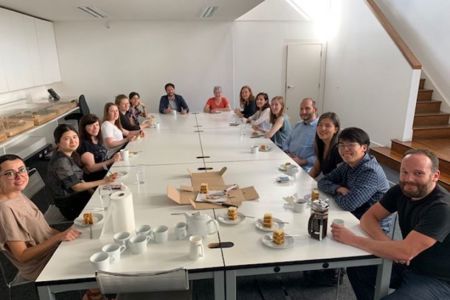 ---
Walters & Cohen Architects
---
Cindy Walters and Michál Cohen started Walters & Cohen Architects in 1994 and have been pioneering female talent – including their own – ever since.
The practice has always been diverse and inclusive. Cindy and Michál left apartheid South Africa for the relative peace and inclusivity of the UK and have welcomed talented staff from all over the world ever since, regardless of religion, ethnicity, politics, gender or sexuality. Bringing together different approaches and cultures benefits the office and our clients, encouraging new ways to think about and discuss design.
I say relative inclusivity of the UK: Cindy and Michál founded a female-led practice at a time when it was rare to do so. Cindy recalls in those early days a male architect friend offering to accompany them to meetings if they needed a man there. The good news is they didn't need a man then, and, as the practice has grown, it has come naturally to Cindy and Michál to support female advancement without the need for targeted initiatives or fanfare. The practice has stayed consistently between 65% and 75% female for years, not intentionally, but because the directors simply pick the best person for the job, both architectural and administrative. This might sound like a suspicious coincidence, but it says a lot about the power of reputation: one of our young architectural assistants, Alice, said her tutor recommended she apply to Walters & Cohen not just because of the quality of the work, but also because of the support to female architects, so it might be the case that we receive a higher percentage of CVs from women than other practices do.
Alice also explained that her tutors see the long-term implications of this. Not many women return to do Part 3 (at her university), so it is vital that practices put in the time to mentor young architects, encouraging and challenging them positively and serving as role models over the course of an architectural career. Several of our Part 1 students have returned after their Part 2, which is a good indication of a positive working environment. Those studying for their Part 3 are given 10 days of paid study leave (on top of their holiday allowance) and receive £1,000 towards fees.
Cindy and Michál remain hands-on throughout projects, working closely with all staff. Many young women are inspired by the way they balance running a successful practice with other commitments: design reviews, lectures, examining, judging awards, in Cindy's case a PhD and in Michál's case a personal passion for researching and disseminating knowledge of excellent education design, as well as maintaining family and social lives. Their children, husbands and pets have all been regular features in the office over the years, allowing Cindy and Michál to manage their commitments and encouraging others to do the same. While some studios may prefer to keep work and home life strictly separate, this more personal and authentic approach is no less professional, and brings added mental health benefits: it's always a happy day when Cindy's dog stretches out and invites belly rubs.
On a practical level, the directors believe in equal opportunities and equal pay. Hard work is rewarded and staff know they are supported: when a female architect was sexually harassed on site, the directors made sure this was nipped in the bud immediately.
Walters & Cohen provides a good maternity package: 13 weeks full pay, 13 weeks at 40% salary then 13 weeks statutory maternity pay. The office is family friendly: those on maternity leave or shared parental leave keep in touch and pop by with the baby. In the last 20 years, every staff member who's had a baby (or two, or three) has returned to work – extremely unusual in our profession. When they return, it can be part-time with added flexibility. The directors understand that children get ill, and that staff – male and female – sometimes need to rush off and look after them. Working from home with an office laptop or just having the odd day off to look after a dependant means no-one is obliged to take unpaid leave or use up their precious holidays; staff with young children easily adapted their work hours during lockdown. Flexibility extends to those without family commitments too: many staff take on teaching responsibilities or further studies around work, or make slight adjustments to their hours for fun pursuits, such as jewellery-making, woodwork courses and aerial acrobatics.
2020 has been testing time for staff wellbeing. Our office is a light, bright and lovely place to be, so it was a bleak day in March when we sat down together and discussed leaving. Upstairs is open plan working, while the main space downstairs is for meetings and where we eat lunch, have film nights, quizzes, practice yoga and celebrate: not a week goes by without cake, sometimes for tenuous reasons. An important conversation is just as likely to happen while waiting for the kettle to boil as it is at your desk, and that relaxed atmosphere and sense of community is a big part of what makes Walters & Cohen a special place to work. We have kept our spirits up with quizzes and tea breaks, but while there are benefits to working from home, we miss the kitchen queue, lunchtime chat and the energy of working collaboratively, spread out across the main table with plans, plenty of tracing paper, and real-life discussion.
Each summer, we take students aged 16-21 for work experience and often hear back from those who went on to study architecture. We attend careers days and give workshops at schools across London and are proud to continue our relationship with Regent High School following our project there six years ago: Cindy is now a governor, and Giovanni Bonfanti – a Director of the company since 2007 – gives tours as part of Open City.
It's worth mentioning a small thing that makes a difference: the office provides tampons, towels and sanitary bags for anyone who needs them. There's also a hot water bottle to alleviate period pains, and no shame in using it.
External evidence of a supportive work environment
In 2012, Cindy and Michál were awarded the first Woman Architect of the Year Award. The jury commented:
'The judges wanted to celebrate and champion the work of Cindy Walters and Michál Cohen with this award. The consistent quality of their architecture, combined with the ethos of the practice, not to mention Walters & Cohen's active involvement with the RIBA and in teaching and examining at architecture schools. Exemplary work, by two exemplary women, at an exemplary practice.'
We were thrilled with the award, especially to be recognised for our ethos as much as our designs. Above all, we respect and encourage honesty and excellence in our staff and all the people we work with. Henry Luker, partner at Max Fordham during our project at St Paul's School, spoke positively about our teamwork:
'There's a very nurturing and supportive atmosphere – people's input is valued and encouraged and this means you want to give more (all without the worry of being made to feel stupid). I think this must be the culture Michál and Cindy have instilled in the practice.'