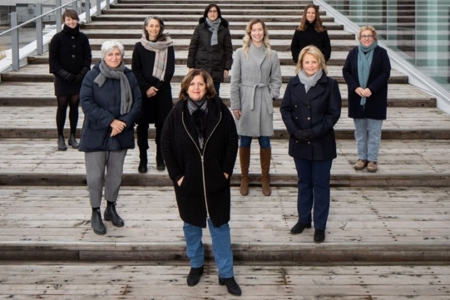 ---
The Port of Montreal's Grand Quai women's team
Provencher_Roy
---
An exclusively female team behind the port of Montreal's Grand Quai.
The Port of Montréal's Grand Quai site and Cruise Terminal rehabilitation project was led by a unique team of close-knit women collaborating across different organizations and backgrounds. Listed below the corpus, the group was made up of passionate professionals aged 30 to 60 years, all of whom striving to reach the objective of offering an inclusive, accessible, and inspiring urban space.
The historic coastal Port of Montréal has evolved throughout the centuries, with the city of Montréal acting as a hub between rail and marine transportation. Today, the Grand Quai offers visitors the opportunity to walk along wooden terraces with green spaces, and enjoy panoramic views of both the city and the Saint Lawrence River, all the while bonding with friends and neighbours.
Through its innovative and daring vision, the team was able to implement and put into perspective the challenges faced by the marine terminal site. Although strategically it's located in the tourist area of Old Montréal, aside from boarding cruise ships, few pedestrians frequented the site and embraced the space as their own.
As a result, the objective of project designers and managers was to think differently in order to offer a new and integrated vision of the infrastructure and meet the Port's needs, without discarding its existing historic structures. Each team player therefore contributed to the high-quality architectural and landscaping conceptualization of the Grand Quai project. As a whole, they reimagined the role of public spaces, by creating a connected walkway along the Saint Lawrence River. Today, the architecture and landscaping are integrated with the existing structure in a sensitive manner that conserves both the spirit of the place and the industrial heritage of Montréal. Furthermore, citizens can now reappropriate the neighbourhood, thanks to this newly revitalized public access to the River.
Given the fact that the infrastructure and architecture are singularly complex for this site, as a quay, which is also functional as a ferry terminal with specific security and operational needs, the team's stellar creativity and productivity have exceeded expectations and pushed the project to new heights.
Throughout the process, the dynamics, consistency, thoroughness, and communication between team members were conducive to motivation and perseverance. Together, they contributed to the incredible success of Montréal's Grand Quai.
Team members:
Sonia Gagné, Partner Architect - Provencher_Roy
Sylvie Vachon, President and CEO - Port of Montréal
Marie-Claude Leroux, Vice-President, Legal and Real Estate Affairs and Corporate Secretary - Port of Montréal
Josée Labelle, Landscape Architect – NIPPAYSAGE
Kimberley Thouin, Structural Engineer - NCK
Li-Anne Sayegh, Engineer – ARUP
Sonia Beaulieu, Project Manager - wind studies and shock absorption – RWDI
Nora Menasria, Engineer - Port of Montréal
Carole Nuttall Environmental Advisor Port of Montreal
Valérie Bier, Architect - Provencher_Roy
Sophie Wilkin, Architect - Provencher_Roy
Krisafie Koulis, Architectural Technician - Provencher_Roy
Mélissa Boisjoli, Architectural Technician - Provencher_Roy
Danielle Dewar, Architect - Provencher_Roy
Marilina Cianci, Architect - Provencher_Roy
Alice Cormier-Cohen, Architect - Provencher_Roy
Camille Laforest, Architect - Provencher_Roy
Chloé Hutchison, Architect - Provencher_Roy
Maryia Kamisarava, Architectural Technician - Provencher_Roy
Sylvie Turcotte, Provencher_Roy
Lucie Bouthillette, Provencher_Roy