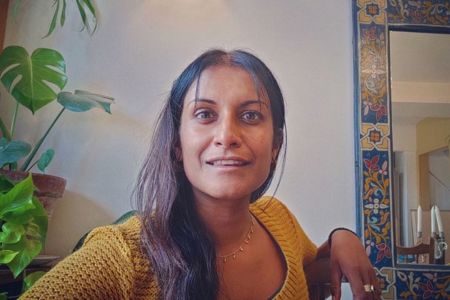 ---
Shankari Raj
Nudge Group
---
Shankari Raj, known as Shanks is a highly experienced, creative team leader. She has been on the board of the British Architectural Trust Board (BATB) for the RIBA for over 5 years. She founded Nudge to challenge traditional approaches to architecture head-on, focusing on community led, sustainable design processes. She is a visiting lecturer and external examiner at Architecture schools across the country: Cardiff, Newcastle, Sheffield, Bath and Liverpool University. She has been an ongoing judge for the Architectural Journal.
Her practice Nudge is a versatile architecture practice with a strong reputation for designing and delivering spaces that enable people to innovate, be bold, work, muse and reflect. Nudge is behind a growing portfolio of award-winning spaces in the UK and beyond. Recent projects include, The GreenWay project, OVO Energy headquarters, Old Market Assembly, Engine Shed, Bristol and Temple Studios.
"Having creative flair with practical application, attributes which are often mutually exclusive. With their commitment and passion I'd have no hesitation in recommending them." Richard Pearce, TCN-UK (Temple Studios)
"Why is Bristol so successful? There are a few clues at the EngineShed, the original entrance to Temple Meads, that this is a place for modern, forward-thinking, successful young businesses… You could be at a national headquarters of Google… But you're not. You're in one of the oldest train terminuses of its kind, designed and built by Isambard Kingdom Brunel in 1841, and given a facelift in 2013…" Bristol 24/7, Louis Emanuel, Dec 27th 2015.
The philosophy of Nudge is guided by the concept of collaboration and co-design, which recognises that the spirit of a space is always shaped by the people who use it.
'We like to understand how people think, how people move around spaces and engage with each other. An understanding of behavioural patterns is how we create fully engaging and occupied fun environments." Shankari Raj, Nudge Group, Architect & Founder
She has consistently engaged over the last decade with community-based projects, working probono to develop and deliver better places for people, which are safe, occupied and beautiful. As a female Architect running her own business she has brought a voice to the table at RIBA board meetings and the Architecture Centre to increase support for Architects and raise the profile and educational training, across sectors and with the public, on quality design within our cities.
Shanks often works with limited budgets but stretches the available funds to make maximum impact to benefit the community. She was commissioned by the London Legacy Development Corporation to look at how to successfully model and deliver temporary use projects for the Queen Elizabeth Olympic Park and is a leading expert in this area.
The Shape My City talent accelerator is her latest venture with the Architecture Centre where Shanks manages and curates the design program one day a week for young people, between 15-18 years of age from diverse backgrounds. Enabling young people to have a voice and give them career opportunities within the field of Architecture and the Built Environment.