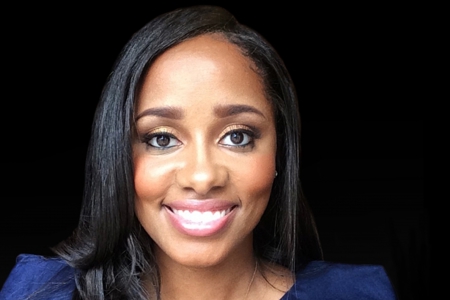 ---
Pascale Sablan
Beyond The Built Environment
---
Pascale Sablan, FAIA, NOMA, LEED AP, Architect-Advocate is an Associate at Adjaye Associates, with over 14 years of experience, has been on the team for a variety of mixed-use, commercial, cultural & residential projects in the U.S., Saudi Arabia, India, Azerbaijan, Japan, & UAE. Pascale is the 315th living African American female architect in the United States to attain her architectural license and the 21st African American female architect to be elevated to the College of Fellows.
She is the Founder and Executive Director of Beyond the Built Environment, LLC (BBE), positioned to uniquely address the inequitable disparities in architecture by providing a holistic platform aimed to support numerous stages of the architecture pipeline. In 2018 to launch the BBE to represent marginalized people - both within the profession and within communities most underserved by the profession. They aim to involve everyone (from preschoolers to practitioners and pundits) as critical stakeholders and advocates for just, diverse environments.
In 2020 Pascale was voted President-Elect of the National Organization of Minority Architects, the 5th woman to hold this position of leadership. Mrs. Sablan holds a Bachelor of Architecture from Pratt Institute and a Master of Science in Advanced Architectural Design from Columbia University. To engage the culture, Pascale has given lectures at Institutions, such as the National Museum of African American History & Culture and the United Nations Visitor Centre. She lectured and engaged students at Universities and Colleges all over the United States.
Awards:
2021 - Winner: Architectural League - 2021 Emerging Voices
2021 - Winner: Crain's New York - Notable Black Leaders and Executives
2021 - Winner: AIA National - 2021 Whitney M Young Jr.
2020 - Winner: AIA New York State - President Award
2020 - Winner: Hanbury - Hanbury Virginia Design Medalist
2020 - Winner: Project Management Institute (PMI) - Future 50 List
2019 - Winner: Sacred Heart - Outstanding Alumni Achievement Award
2019 - Finalist: New York Foundation for the Arts - NYFA Grant
2018 - Winner: Pratt Institute - Alumni Achievement Award
2018 - Winner: AIA National - Young Architects Award
2017 - Winner: Commercial Observer - Woman on the Rise Award
2017 - Winner: Building Design + Construction - 40 Under 40
2015 - Winner: National Organization of Minority Architects - Member of the Year
2014 - Winner: AIA New York - Emerging New York Architect Merit Award
2013 - Winner: AIA National - Emerging Professional Award Exhibitor
Bibliography:
Beyond the Built Environment LLC, website: www.beyondthebuilt.com
Although used interchangeably the difference between activism and advocacy. Activism is posters, marches, protests, getting everybody aware, mobilizing, cultivating resources to draw attention to a particular issue. Advocacy, is more long-term, the nitty-gritty of policy writing, getting information and statistics embedded so that regardless of the person in charge, this rule has to be followed. Although Pascale plays both roles, she sees herself more as an advocacy leader and strategic about selecting board positions that allow me to create policy changes.
As a New York-based architect, those positions form a laundry list: currently an associate at Adjaye Associates, President-Elect, and historian of the National Organization of Minority Architects (NOMA), director on the AIA New York Board of Directors, a board of trustees member for the Mary Louis Academy and founder & executive director of Beyond the Built Environment. Pascale is the 2021 AIA Whitney M. Young Jr. Award Recipient and became the youngest African American to elevate to the AIA College of Fellows.
These positions of leadership facilitate my effort to push for Diversity & inclusion initiatives that protect women and BIPOC designers in the profession and make policy to ensure equal pay, career advancement, and training opportunities, and most of all, initiatives that ensure women and BIPOC designers are not disadvantaged in the workplace.
Pascale works tirelessly to dismantle injustice by engaging the community through architecture to advocate equitable, reflectively diverse environments. Her purpose came after she experienced discrimination by a professor in her first few weeks of architecture school. In front of a class of 80 peers, she and another student were asked to stand and told would never become architects due to our race and gender. She was taken aback by how a professor who didn't even know our names nor talents can be so confident in his proclamation. Though she would ultimately prove the biased professor incorrect and became a licensed Architect in the United States, it was her advocacy moment. She then understood that she carries the responsibility of representing women and diversity, and chose to claim it. If her actions are being used to judge her entire demographic, then she will leverage her existence to fight for them.
Inspired by Marian Wright Edelman's quote, "You can't be what you can't see," Pascale has lectured at 19 colleges and universities with a total of over 2,646 attendees capitalizing on this platform to personally advocate representation and diversity. To make facilitate access to educational lectures and testimonials she founded a diversity & inclusion initiative, the NOMA National Vimeo page. The resource has engaged over 33,290 views via an online platform used as an educational resource to centralize and archive programming.
The majority of her career was sculpted by her experience at a firm where she spent 10 years. This was an environment where she excelled and was supported until she became a mother. Giving birth to her son was the largest challenge of her professional career. Returning from maternity leave she had to advocate for initiatives that ensure women are not disadvantaged in the workplace and had a healthy and supportive work environment. Pascale fought to have a conference room to be converted to a mothering room for those in the office who are nursing, to have a dedicated space designed and furnished for that use. This space was catalytic in forming a culture and positive attitude towards the mental and physical well-being of these women.
They promote agency among diverse audiences and advocate for equity in the built environment through their "triple E, C" approach. Engage, Elevate, Educate, and Collaborate. They engage diverse audiences through
programming promoting intellectual discourse/exchange. They elevate the identities and contributions of women and BIPOC designers through exhibitions, curated lectures, and documentaries that testify to the provided value of their built work/impact. They educate the masses through formal and informal learning opportunities that introduce architecture as a bridge to fill the gaps of inequity. They collaborate with community stakeholders and organizations to crowdsource information and amplify opportunities to advocate for equitable and reflectively diverse environments.
The SAY IT LOUD Exhibition is not a traveling exhibition rather a traveling activation. Each exhibition cultivates and elevates the contributions of women and BIPOC designers of that state. Pascale partners with local community organizations to host an exhibition and supporting programming to help raise the visibility of the diverse designers of their community. Pivoting and adapting to COVID-19 required social distancing, all past SAY IT LOUD Exhibitions have been converted to virtual galleries and accessible online.
Exhibitions: A'18, A'19, Georgia, Illinois, Montana, Nebraska, Nevada, New York, NOMA'18, NOMA'19 Now, Ohio, Pennsylvania, SXSW, Tennessee, United Kingdom, United Nations, and Virginia. We've organized 18 SAY IT LOUD Exhibitions globally and have elevated 425 designers to date.
The SAY IT LOUD - UN exhibition has been spotted all over the world. March 25, 2019, was SAY IT LOUD Day at the UN information centers worldwide, where professors and students were invited to see the exhibition.
Pascale also created the Great Diverse Designers Library to house the content gathered through these various exhibitions to serve as a continuation of the elevation of their work. While simultaneously serving as an online directory for business opportunities for the featured designers leveraging the profiles that we've gathered. As a testament to their progress in fighting for Equal pay and Career Advancement for women and BIPOC designers; our impact has been noted by the increase in business for those featured designers. A Google search shows, the top 50 results for the keywords "great architect" include only 1 woman, 9 minority architects, and zero African Americans, though the list ranges in time-period from Renaissance to present-day. Pascale went to Google's Headquarters and asked why? "There is not enough content that lists women and BIPOC designers as great" was their response. Hence the title GREAT diverse designer's library and the creation of a Media initiative.
SAY IT WITH - MEDIA is a 2020 initiative creating partnerships with media publications. Media publications have neglected stories, contributions, and in some cases erased the existence of great women and BIPOC designers.
With this call for action, she engages media outlets, digital, print, and broadcast to sign a Memorandum of Understanding (MOU) committing to 4 principles. The most ambitious is committing to reporting the percentage of women and BIPOC designers, they feature in the publication annually, continued tracking to increase the result by 5% annually until 15% is achieved, and publish the results for accountability. First Commitments were made by Cite Magazine, Oculus Magazine & The Cleveland Observer.
Since forming BBE Pascale has advocated for policy changes and make institutions accountable for ensuring the elevation of women and BIPOC designers and their contributions to the world. At the start of her academic career, she was asked to stand and has been standing up for justice since.