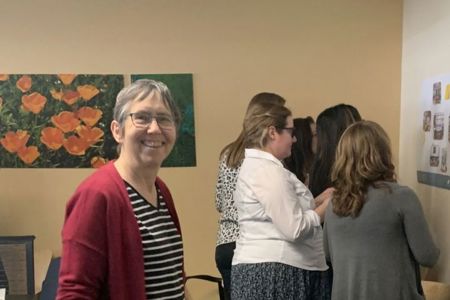 ---
Lisa Gelfand, FAIA, LEED AP
Gelfand Partners Architects
---
Lisa Gelfand earned her Master of Architecture from Yale University, and is a Fellow of the American Institute of Architects. Lisa's career demonstrates an ongoing commitment to expanding the boundaries of sustainability, equity, and community-centered design. She has spearheaded hundreds of projects that transformed housing, schools, and communities, and enabled the building blocks of our everyday environment to be deeply sustainable. She is the author of Sustainable School Architecture, and coauthor of Sustainable Renovation.
She designed Blach Intermediate School, the first Collaborative for High Performance Schools project in Northern California. Blach's beautiful budget friendly energy performance in 1999 helped elevate sustainable school design across the US and prove the viability of approaches now required by the California green building code. She also served on the Green Committee of the California Division of the State Architect Advisory Board and is currently working with DSA to develop Zero Net Energy strategies applicable across the state.
Lisa has also focused on housing. Her work renovating and designing thousands of deeply affordable apartments in the San Francisco Bay Area, reinforces their livability and their integration into the social life of their neighborhoods. Her Kelly Cullen Community transformed an old Y into 172 new units for formerly homeless individuals and provided private dignity as well as spectacular public spaces in a historic building.
Social and environmental justice also guided Lisa's design of a practice that would achieve excellence and support the whole lives of the staff professionally and personally. She founded Gelfand Partners Architects in San Francisco in 1997 to serve the public interest in education, affordable housing, civic and mission aligned commercial facilities. The practice takes responsibility for everything from its community impact to its product to its fairness and support for staff and has earned the Just Label and recognition as a Certified B Corporation.