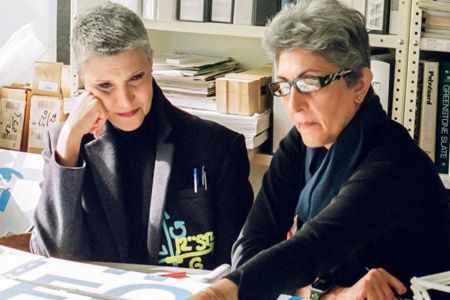 ---
Gisue Hariri & Mojgan Hariri
Hariri & Hariri Architecture
---
Gisue Hariri & Mojgan Hariri are by Iranian-born Cornell-educated sisters and Co-Founders of Hariri & Hariri Architecture D.P.C., a New York City based multi-disciplinary architecture and design firm established in 1986. They grew up in a small town in the South of Iran, far in the desert near the oil fields. The desert became both deeply isolating and nurturing. Isolation encouraged their imagination to run wild as they often had to invent their own world, toys and games. This creative process of envisioning & inventing their universe was the beginning of their design collaboration. Today they are celebrated as two of the most accomplished women in American architecture and design and are described as one of the most progressive and out-of-the-box firms currently working in the United States. Their projects range from luxury residential developments and hotels to single-family houses to high-concept, high-tech experiments to Humanitarian projects. For the Hariris, design is a holistic, boundary-less enterprise ranging from master planning and architecture to interior design, furniture, lighting, product design, and jewelry.
They have been promoting sisterhood in architecture & are leading activist in Women Empowerment, Equality & Equity in the male dominated field of architecture. Hariris believe, being different is an asset, being a woman-a gift & being Iranian-a cultural strength.
Gisue Hariri started teaching in 1987 to emphasize the importance of Academic and Philosophical discourse within the context of a professional practice. She has been an Adjunct Professor of Architecture at Columbia University, a Visiting Critic at Cornell University, Mc Gill and Parsons School of Design. Mojgan Hariri continued her Master degree education in Urban Design & City Planning under the legendary historian and influential critic, professor Colin Rowe. Giving the practice expertise needed in designing large master-plans.
Overcoming systemic sexism has been the biggest challenge they have faced in architecture, yet they have been honored with numerous awards, including the 2015 American Architecture Award from The Chicago Athenaeum Museum of Architecture and Design & the Academy Award in Architecture from prestigious American Academy of Arts and Letters in 2005. They were inducted into the Design Hall of Fame in 2006 & in 2010 they were named as one of greatest talents in Architecture & Design in AD-100 by the Architectural Digest magazine.
The firm received Best Of Year award for their humanitarian DISASTER RELIEF-FOLDING POD project in 2019.
Gisue Hariri & Mojgan Hariri's inspiration to be frugal and sustainable in their designs, respect for nature, ecology, and our planet, is inherent in their Persian heritage. Use of simple technologies, ingenuity & inventiveness, combined with insight & intuition is apparent in all their projects.
Critics have noted that their designs are on one hand experimental and visionary using the latest of technologies but at the same time they are very poetic and philosophical, bridging the best of East & West.
Their recent monograph Hariri & Hariri: Leading Architects was published in January 2018 by The Images Publishing Group celebrating the firm's three decade of International projects & work.