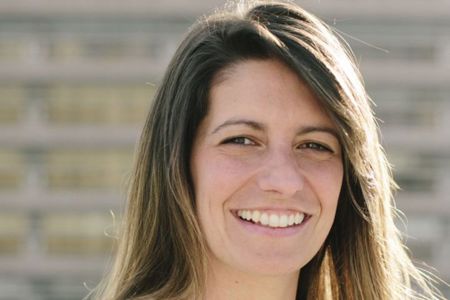 ---
Fernanda Oppermann
MUTUO
---
Our work at Mutuo is as much about empathy as it is about space.
Fernanda is an immigrant from Brazil to the United States. Jose, her business partner, is also an immigrant, from Mexico. Being an immigrant offers the invaluable gift of seeing the world through a new lens. The uncomfortable and exciting journey of discovering your way into a new culture humbles, and above all, teaches about empathy. As an exchange each immigrant offers a small window into the culture she came from, a unique perspective that depends on that person's experiences in that culture - her own story. What we love about Los Angeles, the place where we live and practice, is that, when you look out you see a multitude of tiny windows. If you get close enough to take a peek you will discover another story.
We design physical spaces that tell stories.
A vibrant shade pavilion in the Coachella Valley provides a place for interaction and cultural celebration. It gives visibility and voice to the immigrant farming community of North Shore.
Our work developing affordable-by-design construction systems looks into simplifying the building process with faster and more affordable solutions for housing, a perspective we brought from our experiences in Brazil and Mexico. As we all know, having a physical space to call home is the first step in giving voice to the stories that have been silenced by homelessness.
Architecture to us, is the physical manifestation of people's unique stories and the opportunity to reconcile a multitude of different perspectives.
Fernanda holds a Bachelor of Architecture from the Federal University of Rio de Janeiro, and a Master of Architecture degree from the University of Southern California (USC).
She is also a USC Ross Minority Program in Real Estate alumni, and she participated in the 2018 GROW Mentorship Program led by the Women's Leadership Initiative at the Urban Land Institute (ULI). She volunteered at the USC Initiative to Eliminate Homelessness Typologies Workgroup.
Selected Nominations, Awards and Exhibits:
2022 Crystal Bridges Museum of American Art, Housing concept exhibit
2021 The Architecture League in New York, Emerging Voices shortlist
2020 American Institute of Architects, Los Angeles (AIA|LA) Citiscapes award, North Shore Pavilion.
2020 Chicago Athenaeum/European Centre International Award, Boyle Tower.
2020 LA Forum for Architecture and Urban Design, Every Thing Changes exhibit.
2020 Beverly Willis Architecture Foundation, Built by Women Los Angeles, North Shore Pavilion
2020 USC Generation Next, Selected USC Graduates firms & projects
2019 AIA|LA Presidential Emerging Firm Award
2018 AIA|LA Next LA Honor Award for Boyle Tower
Selected projects:
Chicano Art Museum, a new community museum in East Los Angeles (2020- )
Sunset Boulevard Gateway. Mutuo with Studio-MLA (2020- )
Self Help Graphics, a re-imagined campus for the non-profit dedicated to the production, interpretation and distribution of prints by Chicano/a and Latinex artists (2020- )
Boyle Tower, a small micro-unit tower made from infrastructure precast concrete modules. This is one of our affordable-by-design approaches to address the housing crisis (2018-2021)
North Shore park pavilion (2017-2018)
www.thisismutuo.com