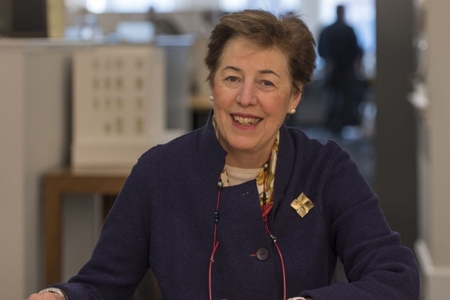 ---
Ann M. Beha FAIA RAIC
Ann Beha Architects
---
Ann Beha FAIA RAIC's 40 years of practice has re-imagined landmark and existing buildings throughout the United States, renewing and expanding them for the next generation. Her design accomplishments extend to the redesign of Gropius US Embassy in Athens, Greece, and the US Embassy in Paris, France, both international landmarks, as well as to multiple significant university, cultural, and civic buildings.
A graduate of Massachusetts Institute of Technology, Ann founded Ann Beha Architects in the early 1980s to stem the ongoing loss of existing buildings in New England, advocating for their hidden values and potential. Based in Boston and practicing nationally and internationally, Ann Beha Architects is now a recognized leader in the renewal and expansion of existing buildings, the reinterpretation of legacy nd the design of new buildings set in historic contexts. Its commitment to diversity is conformed by its own structure: 58% minority and women within its staff.
Ann's leadership is reflected in the firm that she built; the new practices that she has encouraged; her active mentorship of young architects; her influence on the profession, made while leading and serving on 15 AIA and international juries; and her sense of community, cultivated as a Board and Visiting Committee member at cultural organizations, an activist, and a civic advocate. Her volunteer work includes service on city-wide review boards, often as a sole voice for design excellence, pressing for open space, equity, and sustainability in proposed developments.
Ann's work, and ABA's projects, explore the intersection of contemporary design with heritage, pushing the boundaries of legacy to address the needs of the next generation. Her work includes projects informed by research and collaboration, including the Saieh Hall for Economics and Research at the University of Chicago, the Student Life and Performance Center at the New England Conservatory; the master plan for the Smithsonian's National Museum of American History; and planning and design for US Embassy renovation and expansions in Athens, Manila, and Paris.
ABA, and Ann individually, have received numerous national and regional awards from the American Institute of Architects and its chapters, but she notes two that celebrate the teamwork of the construction manager, architects, engineers, and owner. These awards from the Chicago Building Congress confirm her commitment to teamwork, communication, and inclusion.
Ann has served on the Industry Advisory Group for the US State Department and was the State Department's first recipient of their Award of Honor, recognized for her work on juries. She has served on the Visiting Committee for the MIT Department of Architecture, has been a Loeb Fellow at Harvard University, and was Distinguished Visiting Professor of Design at the City College of New York.