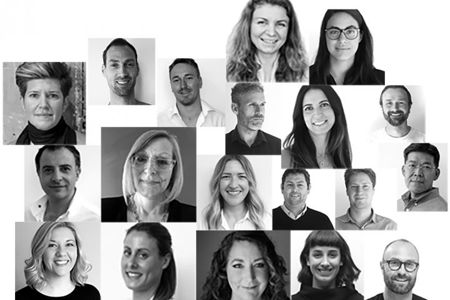 ---
80 Collins Street
Woods Bagot
---
Led by Woods Bagot senior associate Marija Cakarun, Woods Bagot's 80 Collins project delivery Team comprised – over time – of Peter Miglis, Hazel Porter, Lyndon Wade, Sebastian Hecker, Frank Rog, Damian Camplin, Kok Leong Ho, Kyle Machin, Naz Mofakhami, Anamaria Arnautu, Blair Parkinson, Sue Fenton as well as Bronwyn McColl, Sarah Alessi, Glen Crawford, Natalie Aganoff, Isabel Munro and Tahlia Landrigan for the hotel fitout. Marija has led the team full time since 2012.
Together, the 80 Collins team have solved complex problems and ensured the best solutions through ongoing review and scrutiny of detail. Aware of the projects city-defining nature, they've made intelligent decisions that ensured a timelessly beautiful result. They have also managed a great working client relationship and gained respect and admiration from collaborating parties – put best by Marija herself, "it's never about the work it's always about the people."
Since 2012, Marija managed risk and project delivery. Her role included managing client liaison, responsibility for the financial and contractual management and performance of the project as well as management of team output and delivery.
While others have come on and off the project, Marija is the custodian thread – linking new with old, safekeeping important knowledge and taking on the task of briefing and rebriefing members. Marija empowered all team members by including them in key decision making and ensuring they attended all meetings and responded directly to the client and consultants as well as reporting. Everybody on the team was fully engaged.
The teams two principals – Hazel Porter and Peter Miglis – provided high-level design expertise and contextual thinking. Hazel and Peter advocated for the project and ran town planning submissions. The duo take pride in how 80 Collins references the city's past while making a sculptural addition to the city's skyline – with its striking façade refencing the facetted street lanterns of Collins Street and creating a very complex 12m cantilevered 'lantern' over the ground plane.
Each aspect of the project had its champion architect/s. Under Marija's watchful eye, Frank Rog oversaw the new office tower, Sebastian Hecker undertook the hotel tower and the combination of Kok Leong Ho, Kyle Machin and Damian Camplin saw that the podium was delivered in style. Assisted at varying times by Lyndon Wade, Naz Mofakhami, Anamaria Arnautu, Blair Parkinson and Sue Fenton, these champions ensured that each vital piece of 80 Collins met the demands of performance, sustainability and amenity – incorporating new technology and future standard-making.
When Woods Bagot were awarded the interior fit out for the project's hotel component, interior designers Bronwyn McColl and Sarah Alessi led Glen Crawford, Natalie Aganoff, Isabel Munro and Tahlia Landrigan in designing a uniquely sophisticated boutique experience that connects visitors with the treasures Melbourne has to offer.
The 80 Collins Street team have conquered complex challenges together and head on. The easiest team to locate in Woods Bagot's Melbourne studio due to their frequent bursts of laughter, their obvious diligence, focus, competence and collaborative spirit make them the clear answer for any call out for 'Team of the Year'.